NOTE: This page has been acknowledged AND corrected by Rachel Portman herself at March 5 1997

Biography:
Rachel Mary Berkeley Portman was born on December 11 1960 in Haslemere, England.
Married 1995 to film producer Uberto Pasolini, and have 3 children: Anna, Giulia and Niky.

Is educated in classical music, in composition and orchestrating.
She played various types of instruments from a very early age.
And started composing, when she was about 13-14 years old. Was educated in music at the University of Oxford.
Her musical background, is the main reason why, most of her scores, is composed on a piano.
Hardly ever uses synthesisers, or other electronic instruments.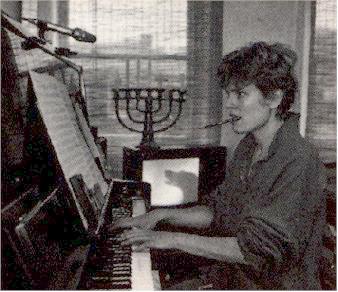 On this picture, Rachel works on music for a scene, with a wild dog and a boy. For the film Used People in 1992.

Her career:
Has been praised by many, including myself, to be a new pioneering composer in film music.
Not only because she is among the very few women in the business, but also especially because she has right from the start,
been deeply involved in the characters and the drama, which she had to underscore.
So deeply, that the characters emotions on the big screen actually "bursts" out in the theatre
through epic and lush music from Rachel.
Even though she started her career way back in the early 1980's, it took her many years to get established
and frequently requested for major Hollywood-pictures. The breakthroughs came with Used People and Emma
In 1988 she won THE BRITISH FILM INSTITUTE'S YOUNG COMPOSER OF THE YEAR AWARD.
Has also won THE CARLTON TELEVISION AWARD for "Creative Originality for Women in Film".
And she has been nominated to 3 other British awards. Among them, her fine score to the film
Where Angels Fear To Tread. In 1997 she finally got The Academy's recognition,
when she got an Oscar for her fine score to Emma (1996).
The female director Beeban Kidron is probably the one director, who has collaborated most with Rachel,
and they will probably continue their collaboration. So far they have made 4 films together.
Rachel Portman orchestrates almost every score herself. Although Jeff Atmajian has done orchestration work for her on
her later scores, such as: Marvin's Room, The Other Sister and The Cider House Rules.
Uses different conductors. Usually David Snell, but J.A.C. Redford has conducted her scores for
The Joy Luck Club, Benny & Joon and A Pyromaniac's Love Story.
One could only hope, that one fine day she will go to the podium herself.

Academy Award's (Oscar's):
Rachel Portman has to this date received 1 Academy Award (Oscar's):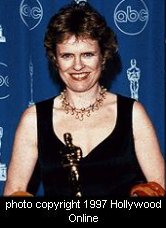 EMMA from 1996
(The first female composer ever to win)
She has been nominated to 2 Academy Awards for:
THE CIDER HOUSE RULES from 1999
CHOCOLAT from 2000


My favorite music:
My top favorite, among Rachel Portman-scores is without any doubt Only You.
That was the score, which made me start my Rachel-collection. When I saw this funny/surprising film,
there is a scene in the film, where the characters drive to Venice. The lines stops, the camera zooms out,
and right in front of you, you have this beautiful landscape as seen on a painting.
And when Rachel enhanced this landscape with her epic and lush music,
I was "melting" completely (It's hard to describe). My God, this is brilliant!.
My other favorites is Ethan Frome, but Emma, Hart's War, Pinocchio, Benny & Joon, War Of The Buttons
and The Joy Luck Club are also great...
... like all the rest.

The latest CD-releases:
2005: Because of Winn-Dixie (only 3 tracks score) and Oliver Twist.
2006: The Lake House and Infamous.
2008: The Sisterhood of the Traveling Pants 2 and The Duchess.
2009: Grey Gardens.
2010: Never Let Me Go.

upcoming projects:.
upcoming releases: ?

Address to Rachel Portman, through her agency:
Ms. Rachel Portman
c/o Kraft-Engel Management
15233 Ventura Blvd.
Suite 200
Sherman Oaks, CA 91403
U.S.A.
Phone: 818-380-1918
Fax: 818-380-1915

Address to Rachel Portman, through her publishers:
Ms. Rachel Portman
c/o Bucks Music
Onward House
11 Uxbridge House
London W8 7TQ England
Link to ordering sheet music:
http://www.sheetmusicplus.com/store. Search for Rachel Portman as a composer, not artist. Good luck.
http://www.musicnotes.com. Search for Rachel Portman as an artist/composer. Good luck.

Owner of this page (last edited on January 16th 2011): Henrik.
Web-master of The Danish Film Music Society.
Please read my other pages, in respect of composers:
John Barry, Jerry Goldsmith and Howard Shore.